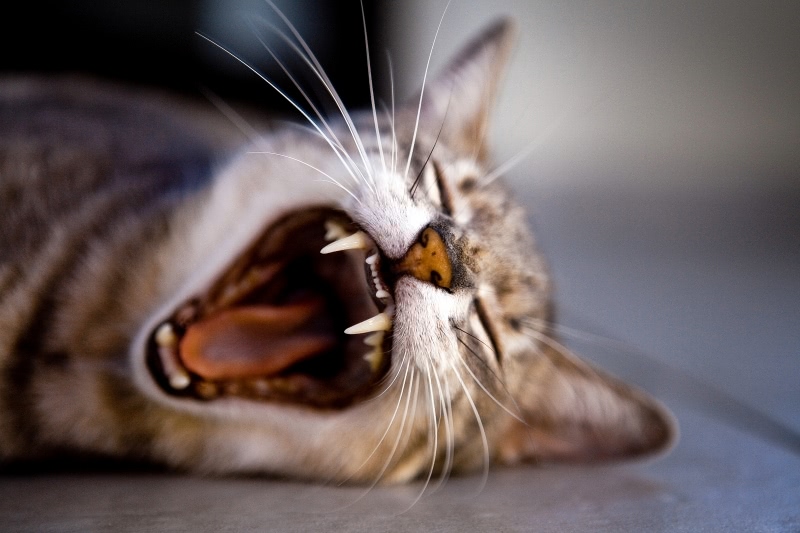 Why Am I So Tired Today?
I'm tired today. Physically and mentally. I woke up this way. I've been awake for about 3 hours and I'm only just now really getting into the flow of the day.
Does this happen to you often? I used to experience this type of overwhelming tiredness more days than not. Waking up feeling alert and motivated was always the exception rather than the rule for me. It's better these days, but I know that many others struggle with it on a daily basis.
It could just be that you're having an off day and didn't get quality sleep last night. But if this is a recurring problem in your life and you're always asking "Why am I so tired today?" it could be because of certain habits that are taking a huge toll on your sleep quality and energy levels.
I'm going to take a look at 6 non-health-related issues that could be causing you to feel tired. It could be only one of these issues, or it could be multiple – you'll really have to look inside to figure out which of them are affecting your energy levels.
Note: I'm purposefully not addressing health issues that can cause tiredness because this is a personal development blog. Here is a good resource from Prevention if you think your fatigue may be due to a physical health issue.
6 Reasons You're Always Tired
Not Enough Physical Activity
One of the biggest factors in my own struggles against lethargy and tiredness was lack of physical activity. I would go to the gym and lift weights but I was never actually doing aerobic exercises that pushed my body. If you truly want to feel the effects of exercise on mood and energy levels, you need to push your body. That means cardio folks!
Cardiovascular exercise can be tedious and boring to some (including myself), but the effect on your energy levels will be unmistakable. Ever since I've been doing cardio 4-5 days a week, I just feel so much better, particularly where my energy levels are concerned.
Not convinced? Here is a meta-analysis of scientific research around exercise and its effects on mood.
The key is to find a type of cardio that you can stand doing 4-5 times a week. For me, that means playing basketball at the local YMCA. For others, it's biking, hiking, swimming, sprinting, or jogging. Find something that you can stand (it doesn't even have to be something you like!) and then commit to doing it. You'll find that you'll be asking "Why am I so tired today?" much less often.
Too Much Screen Usage Last Night
Blue light.
You've probably heard about it by now, but for those that don't know, blue light is light emitted by screens that can wreak havoc on our sleep. Why does blue light so explicitly ruin our sleep? Mainly because it suppresses melatonin production in the brain. Melatonin is the hormone that regulates our circadian rhythm (otherwise known as your sleep-wake cycle). When our circadian rhythm is thrown off, our body has a harder time regulating our sleep cycle and ensuring that we get the best possible nights sleep. It makes it harder to fall asleep, stay asleep, and hit all of the essential stages of sleep.
As someone who has worked exclusively online over the last 7 years, I've been no stranger to screen usage right before bed. I used to constantly be checking my email and social media right up until the time I turned over to fall asleep. One big change I made on this front was to put my phone charger all the way across the room. This prevents me from checking my phone before trying to fall asleep.
I won't lie, I still watch an episode of The Office or Friends on my laptop before going to bed, but I use a free program called "Flux" to modify my screen and eliminate blue light late at night. There are some nights where I will get very involved in activity on my computer right before bed, and I notice that the next morning I am often far more tired on those days.
If you are a big technology user right before bedtime, this could heavily influence your energy levels the following day.
You Have an Irregular Sleep Schedule
It turns out that you don't actually have to be an early riser to experience the best sleep. What you DO have to have, though, is a regular sleep schedule. This study by Harvard showed that students who had a regular sleep schedule performed much better academically than their irregular sleep schedule counterparts.
Once again, this is something I struggled with for years. I had no set time to go to bed and no set time to wake up. Even though I would sleep for 10 hours some nights, I woke up feeling groggy and couldn't escape it all day.
Having a set bedtime and a set time to wake up will do wonders for not only your energy levels but your mood and productivity as well. Your body and mind will thank you!
Boredom
If you aren't stimulated by what's going on in your life, you are likely going to feel tired. We need mental stimulation in our lives. Mental stimulation gives us the energy to tackle our day.
Earlier this year, I did not have a lot going on in my life. I was between school and a job, had just gotten back from an amazing vacation, and I basically was struggling with every item on this list. Suffice to say, I was tired all the time. To combat this, I began setting goals for myself. I wanted to get a digital marketing job at a tech company in the Bay Area. I set to work on that. I wanted to start a blog. I set to work on that. Before I knew it, that boredom-infused tiredness was gone.
If you aren't sufficiently stimulated by your life or your goals, it's an easy fix. Set some goals, get excited about some projects, and you'll be back on the horse in no time.
Caffeine Withdrawal
Caffeine is a funny thing. A lot of people in our world today are highly addicted to it. I definitely am. I'm okay with that for now, though I eventually do want to quit.
The tiredness you're feeling could be because you are addicted to caffeine and either don't realize it or just haven't consumed enough caffeine yet today to satisfy it.
You basically have two options when it comes to caffeine addiction: embrace it or quit it. If you're going to consistently use caffeine than you have to make sure you have it each morning. If you want to quit, than you have to fully commit to quitting.
Being in that middle ground where you're addicted to it but either don't realize it or pretend you're not is where excessiveness tiredness will come into play. The tiredness you feel from caffeine withdrawal can completely hijack your day and leave you as lethargic as you've ever felt, so it's important to just be conscious of it.
Negative Energy from Others
Have you ever had the experience of being around someone who is constantly complaining of being tired? Their body language is terrible and they are just no fun to be around? I'm guessing that being around that person led you to start feeling tired too. You weren't tired before, but their energy dragged you down.
It's important to be conscious of who you're spending time with. The energy of others can subtly but powerfully affect our own energy and moods. This all may sound like some woo-woo, hippie talk but it's true that humans feed off of each other for better or for worse.
Wrapping Up
If you have any of these 6 issues in your life and are constantly asking yourself why you're feeling tired, you now have some answers! Get to work correcting them and you will feel back to your non-tired self in no time.