Here is a breakdown of the 30 day challenge tracking apps I've used. Click any of the app icons to see a screenshot of the main page!
habitX


I actually just discovered this app. It's completely free, is perfectly suited for 30 day challenges, and has a lot of good stats and data features!


View App Screenshot - View in iOS Store

Done


Great, simple app. Not designed specifically for 30 day challenges but easily lets you track. It's what I use to track all of my habits (30 day challenge or not). Free with option to upgrade for additional habits.


View App Screenshot - View in iOS Store

30 Day Trials


This app is kind of weird. The user interface is not super intuitive but it does exactly what you need - give you a calendar with 30 days on it and let you cross off each day.


View App Screenshot - View in iOS Store

Habits


The Habits app is pretty good but they seem to want to get you to pay and it's maybe too designed.


View App Screenshot - View in iOS Store
If you're like me, you probably know how addicting it can be to install new apps. Catch me getting lost as hell in the Google Chrome extensions store, the iOS store, the Mac App Store, the WordPress plugin library. I'm a sucker for trying new tech software. The one good thing about this is that it's given me the opportunity to try almost every habit tracker in the App Store and report back to you with my findings!
I'm not going to focus on reviewing all of the habit tracker apps, I'm just going to give it to you straight…
The best habit tracker for 30 day challenges is Done.
In the middle of writing this, I realized that this post could come across as an advertisement for this app. I assure you that it is not, I just want to convey how useful it is for the 30 day challenge lifestyle!
Here's some quick screenshots of the various main screens: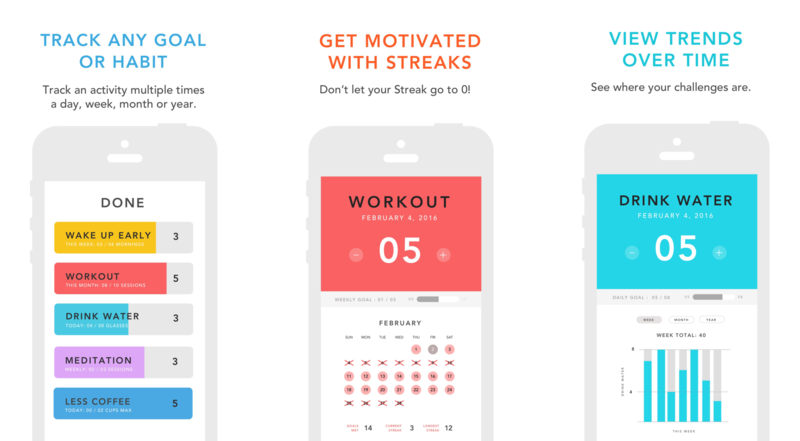 As you can see, this setup is extremely conducive to 30 day challenges. It allows you to set up tracking for any goal and then mark your progress.
I've been using Done for a solid 2 years. That's a long time for me to use an app – usually I'm on to the next thing by now! Here are the features that keep me coming back:
Complete Customization
the levels of customization on this app are endless. There's never been a habit I've tried to track where Done couldn't set it up perfectly.
They allow you to build or break habits, set which days you want to log the habit on, set the time period for the habit, and even track in custom units (if you want to track fractions of cigarettes smoked or something).
Stunning Visually
Say what you will about what motivates us as humans, I know for certain that the simple design, beautiful colors, and visual progress markers keep me motivated to get my sh*t done.
Done is beautiful, simple and doesn't overcomplicate things. And it works.
Tracks Everything
The final thing I really like about Done is that it tracks everything. It puts things into graph format, calendar format, list format and even allows you to export your habits as CSV! If you are a believer in the "Quantified Self", you won't be disappointed by this app.
How I Use Done
Rather than explain how I use it, let me show you a couple screenshots from my own account.

Yep, that's my big 'ol list.
As you can see, I have a variety of habits going on. I would classify them into daily, weekly, and yearly.
Some are daily like intermittent fasting and caloric deficit. These are your run-of-the-mill 30 day challenges – I need to do these things every day for 30 days, measure the results and then write about them. These also tend to be things that are more important to me. Right now, weight loss is toward the top of my priority list and so I'm maintaining a daily habit.
Some, like "Deep Work" and "10 Internship Apps" are weekly. This is because there's really no way to measure them daily, they are simply going to come in bursts. So how can we put this in the context of 30 day challenges? We simply need to complete this for 5 weeks. That would be 35 days. I'm giving an extra 5 days because it's better than going with only 4 weeks and having less than 30 days. Having this flexibility to turn non-typical 30 day challenge habits into 30 day challenges is very important!
The last type are yearly challenges. The only one I have going right now is reading 30 books this year. I've done a 30 day challenge where I read for 30 minutes daily, but so far I've actually found tracking my books over the course of the year to be more motivating. 30 minutes of reading a day is a lot of pressure, but knowing that I want to hit my 30 books keeps me motivated without stressing me out. So far you can see that I've read 9 books and it's only March 10!
What apps do you use?
I'm curious – what habit tracking apps are others using? Not even in the context of 30 day challenges, just in general. I have tried a few others that I liked but once you get a system in place, it's usually better to stick with what you've got going on.
And I'm definitely happy with Done. If you're interested in getting it, just search Done in the app store!